Overcoming Fear Of Needles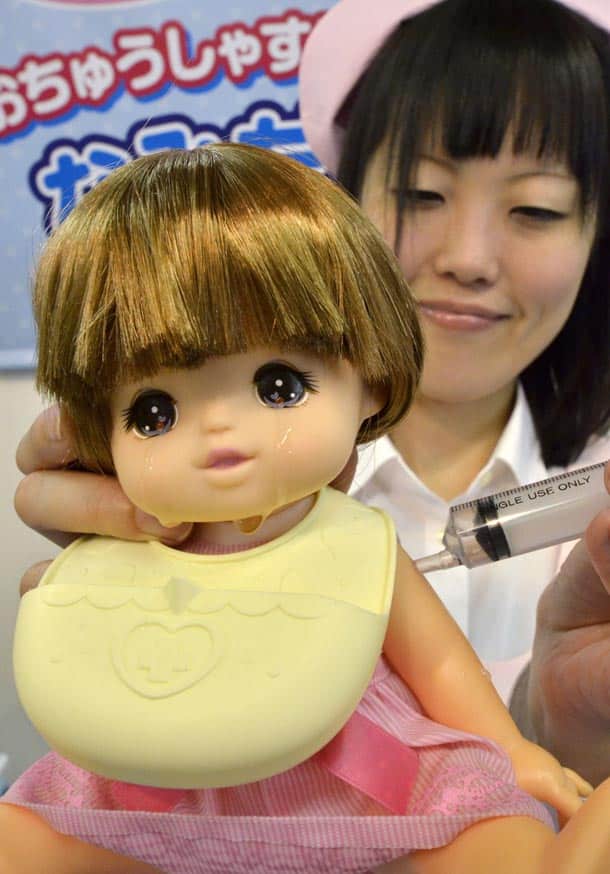 Wouldn't it be much easier to give a child of any age a sweet homeopathic pellet that melts in the mouth, with nothing but a drop of energy? You know I will burst out in song singing, "A Spoonful Of Sugar!" Adults love to have these basic emergency remedies on hand for all occasions. But, we wouldn't use them to overcome fear of vaccination injection, because a child has good cause to fear. Not only does the needle hurt, but some nasty ingredients will be forced into the body where it doesn't belong in a wholly unnatural way. 
I can understand fear of pins when my mother used to sew us our clothing. She would have a pin cushion, but more likely she gently held those pin in her mouth between her lips. And, if ever they dropped, we could easily step on them because they would blend into the carpet or roll along the floor.



I can honestly say the doctor had to run around the examining table trying to catch me when it was time to get a booster shot in the buttocks as a child. I guess a dose of silica would have made it a bit easier to catch me. Afterwards, a sweet pellet of Ledum palustra for puncture wounds would have soothed the painful swelling and hard tissue.  
Brilliant Mind Control
Everyone wanted the Betsy Wetsy doll that would pee when you fed the bottle. It made perfect sense and a little girl could learn to mother, realize how the body functioned and have fun all at the same time.
The idea that a toy manufacturer would design a doll that cries real tears as the mother gives a injection might be considered unusually cruel. Could this be an attempt to prepare a child for a career in nursing? Could this be the preparation stages for mass vaccination efforts across the country? Can this be a form of mind control to build character? I'm told that enduring momentary pain is part of modern medicine in order to build a healthy immune system and protect us against contagious disease. I do believe that we build character when we learn self control, delayed gratification, courage and ethical behavior. 
How Wrong Can It Be?
The photo above shows the mother able to give the injection with a smile (knowing she is doing something 'good') while not showing compassion for injuring and hurting her child. How will a child feel when the toy baby cries? How do we expect it to feel and what happens when they begin to question? Is this just like toilet training with a form of propaganda for little girls. Will they be producing a boy version in the future? About to be on store shelves, the Tomy brand doll named "Yume-Chan" opened at a Tokyo exhibition. On the flip side Toys'R'Us produced a doll that cursed. Unhappy parents voiced their opinions. Do these trends tell us something about the loss of morality and compassion in our society today?



Betsy-Wetsy 1954-1956, 1959-1962 Betsy Wetsy doll, 11", 13 1/2" or 15" tall, soft rubber body, drink and wet doll, rooted hair, blue sleep eyes, open drinker mouth, typically marked; 14 or 16 Ideal Doll Made in USA or Made in USA Pat. No. 225207, Ideal Doll VW-2 or WC-1-1 or VS22 or OBW-20 or © 1965 Ideal Toy Corp. TD14-W Pat. Pend. All Betsy Wetsy dolls have the Ideal marking.
---
Vaccinations are not mandatory in Japan. Parents may choose not to vaccinate. They are strongly recommended to do so. Perhaps these dolls are to train the parents as well as children to accept and expect these schedules. 
Polio: (live attenuated vaccine) From age 3-90 months twice (at more than 6 week intervals)
------------------------------------
Diptheria (D) Pertussis (P) Tetanus Toxoid (T)
(DPT vaccine) Stage 1(DPT triple combined)
First injection from age 3-90 months, three times (at 3-8 week intervals)
Booster injection from age 3-90 months (after first injection wait more than 6 months), once
Stage 2 (DT double combined) Once between age 11 and 12 From age 3-12 months
After first injection completed From age 12-18 months
Sixth year of elementary school (Age 12)
------------------------------------------------------------------
Measles (live attenuated vaccine) From age 12-90 months once
--------------------------------------------------------------------
Rubella (live attenuated vaccine) From age 12-90 months once
---------------------------------------------------------------------
Japanese Encephalitis (Japanese encephalitis vaccine) Stage 1
First injection from age age 6-90 months, twice (at 1-4 week intervals)
Booster injection from age age 6-90 months(after the first injection,
generally one year later), once
Stage 2 From age 9-13, once
Stage 3 From age 14-15, once Age 3
Age 4
4th year of elementary school(Age 9)
2nd year of junior high school (Age 14)
--------------------------------------------------------------------------
Tuberculosis (BCG)
1. Before age 4
2. First year of elementary school
3. Second year of elementary school
(only for those vaccinated in first year of elementary school)
4. First year of junior high school
5. Second year of junior high school
(only for those vaccinated in first year of junior high school)
*Those who react negatively to tuberculin in 1-5 are vaccinated.
(those whose red patch is less than 9mm diameter are judged as
reacting negatively)
----------------------Notes on the Japanese Vaccination Process-------------
Immunizations
"Preventive inoculations (immunizations) for diphtheria, whooping cough, measles and Japanese encephalitis are given at the Public Hygiene Section of municipal offices. The fee and kinds of
immunizations available depend on the municipal office. Foreign residents need to present their Certificate of Alien Registration. "
Vaccinations In Japan
"There are 2 ways of taking vaccinations in Japan - Regular vaccinations that the government encourages and Optional ones that the parents' decide to give in addition to the regular ones. "
"4 months old children are vaccinated against BCG and Polio at 4 months-old check-up in the Public Health Center."
--------------------------U.S. Vaccination Guidelines------------------------------
U.S. Vaccination Schedule dated 2000
Includes:
*diphtheria
* whooping cough (pertussis)
* tetanus
* polio
* measles
* mumps
* German measles (rubella)
* chickenpox (varicella)
* hepatitis B
* HIB (haemophilus influenzae type B)
* pneumococcal diseases
"In most of the United States, many of these vaccinations are required for school or day care.
--------------------------Guideline Differences------------------------------------
I. Vaccinations recommended in Japan but not in the United States
a. Tuberculosis
b. Japanese Encephalitis
II. Japanese guidelines do not include the following vaccinations that ARE recommended in the United States:
a. hepatitis B
b. HIB (haemophilus influenzae type B)
c. chickenpox (varicella)
However, Japan does note that the following vaccinations are optional, but available:
"Optional vaccinations (Charged): Influenza, Mumps, Chickenpox, B-type Hepatitis"
Aside from these differences, the timetables for the common vaccinations are similar. The DPT guidelines are almost the same. The Polio guidelines are different, with the U.S. requiring 3 shots early (as opposed to 2 in Japan) and one at 4-6 years old, whereas Japan makes no recommendation of a Polio vaccine beyond 18 months.
For measles and rubella , the U.S. recommends a booster shot at 4-6 years old, whereas Japan just recommends 1 shot between about 1-2 years.
The differences in these guidelines are primarily due to the varied risks of disease spread in these two different regions. The inclusion of TB and Japanese Encephalitis vaccinations in Japan are primarily because there is a greater risk of spread of these diseases in that country.
TubercuIosis
"The number of cases of tuberculosis (TB) is decreasing compared to past years. 
TB is less of a threat in the United States,and because of the potential risk of side effects from the vaccine, it has not been included in the recommended guidelines.  
Hepatitis B, haemophilus influenzae and chickenpox are more prevalent in the U.S. than in Japan.
It was noted by one source that Japan changed the start time of vaccinating for DPT from 3 months to 2 years because of a potential correlation between the vaccine and SIDS.
Shirley's Wellness Cafe on SIDS 
Shaken Baby Syndrome or Vaccine-Induced Encephalitis?
WHO Immunization Action Coalition

British Vaccination Schedule
--------------------------------------------------------------------
---


Pediatric Case Taking and Prescription - Live Cases
Jonathan Shore | With detailed case taking notes.
This book contains an amalgam of children's cases, remedies, and staging of remedies, giving insights into paediatric practice. Demonstrations from videos illustrate children with various expressions, pointing towards the remedy. Some cases have been provided by Alize Timmerman.
The publisher:

In this work there is a collection of Dr Jonathan Shores lectures on children in general, highlighting the important points useful in pediatrics practice. This book contains an amalgamation of cases, remedies and staging of remedies, thereby, giving you a complete picture of pediatric cases, making you to have a firsthand account of pediatric practice. This book has been enriched with video cases also, giving pictures of children depicting various expressions and pointing towards a remedy. Case presentations have been done by Alize Timmerman also, along with Jonathan Shore, thereby giving this book a classy touch.
.