INSPIRATIONAL QUOTES comes from Twitter
Fear doesn't exist anywhere except in the mind. ~Dale Carnegie Alaskachic907 
"Don't be afraid your life will end; be afraid that it will never begin." ~Grace Hansen @WisdomalaCarte Daniel K. Foisy
A hug is a great gift - one size fits all, and it's easy to exchange. ~Author Unknown
Its always a joy to tell you about the activity on the HWC network.
Nilanjana Basu
 runs a "Mother Care Clinic." Dr Basu is well-versed on this subject and has volunteered to be the HWC group administrator of
Expectant Mothers Labor Delivery
Sending her our gratitude and looking forward to an increase in activity in the group.
Dr Nilanjaa tells us The aim of Mother Care Clinic is to ensure that throughout pregnancy and puerperium the mother will have good health and that every pregnancy may culminate in a healthy mother and healthy baby.
To show that homeopathy is safe from cradle to grave and all stages of life to increase the vital force and help support the individual during stressful times.
Objectives:
1. To promote, protect and maintain the health of mother during pregnancy.
2. To detect "High Risk" cases and give them attention.
3. To foresee complications and prevent them.
4. To remove anxiety and dread associated with delivery.
5. To teach the mother, elements of childcare, nutrition, personal hygiene and environmental sanitation.
Homoeopathy is safe for Mother and her Unborn Child.
Common symptoms which arise during pregnancy:
· Nausea & Vomiting
· Heartburns
· Cough
· Backaches
· Urinary tract infection
· Anaemia
· Pruritus (Itching)
· Headaches
· Varicose veins
· Pica-eating mud or chalk
· Toothache
· Constipation &Piles
· Pedal oedema (Swelling of legs)

Dr Basu had written regarding this concern of issue of homeopaths daily inhaling the vapors from homeopathic remedies. "It is really good that you brought out this topic for discussion. I should tell you that inhaling or ingesting or touching the homoeopathic medicine once will have the effect of one dose of medicine; i.e., if you take medicnes in what ever quantity, it is just one dose of medicine in homeopathy. But if you take medicines repeatedly it will produce symptoms of medicine as in proving. If you are making a medicine, and you either touch or inhale, it will only heal you IF THE MEDICINE IS YOUR SIMILIMUM. IF IT IS NOT YOUR SIMILIMUM, it will not produce and effect with that single touch or inhalation. And again, if you repeatedly use one medicine it will only improve your immunity!"

Nilanjana Basu please refer Hahnemann's Aphorism #141 " Let us not be imagined that such slight indisposition caused by taking medicines for the purpose of proving them can be in the main injurious to the health. Experience shows on the contrary, that the organism of the prover becomes, by these frequent attacks on his health, all the more expert in repelling all external influences inimical to his forms and all artificial and natural morbific noxious agents, and becomes more hardened to resist everything of an injurious character, by means of these moderate experiments on his own person with medicines. His health becomes more unalterable; he becomes more robust, as all experience shows."

Dr. Hahnemann was ahead of his time. What we might feel needful today he has already given a solution centuries back.


When you click the Twitter Button, the URL will link to the Newspaper
BRAND NEW HOMEOPATHS ONLINE NEWSPAPER ▸ ▸
The Cure for Asthma, Coeliac Disease, and Colitis: Parasitic Worms?
by Heidi Stevenson 4 December 2010
The Cure for Asthma, Coeliac Disease, and Colitis: Parasitic Worms?
Parasite is not the right term. Symbiotic is the term that defines the relationship between us and soil-transmitted worms, which are ubiquitous in soil.
Asthma, coeliac disease, and ulcerative colitis cause immense suffering and serious harm to quality of life. Medical treatments are often worse than the disease. They generally end up worsening the condition, often resulting in other, even worse diseases. The misery of people with these conditions can be so severe that they'll try just about anything—including intentionally infecting themselves with parasitic worms. As weird and yucky as it sounds, though, it works! Even better, the people who do infest themselves with worms don't generally suffer ill effects.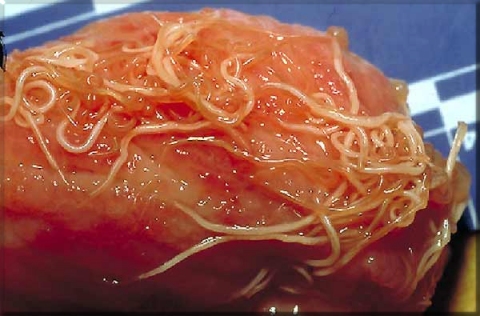 The worms involved are small hookworms and whipworms [shown above], both belonging to a group called soil-transmitted helminths. They colonize the gut. Though they sound, well...yucky! the fact is that, throughout most of history and prehistory, humans and gut worms have coexisted. It's likely that most people had them, but that healthy people most often had no symptoms.
[Shown below worms in the soil, worms in the intestines, worm eggs]
The fact is that, just like with bacteria, we evolved with parasitic worms. Some are very bad for us, but some apparently have a symbiotic arrangement—just like bacteria. We need them for a well-balanced gut. Without them, we get sick. Modern medicine has theories about why they're good for us, but the fact is that exactly what they do isn't known. What is known, though, is that getting rid of them over the last 50 years or so is related to our enormous increases in autoimmune disorders of the intestinal tract.
How do we know that not being colonized by worms is related to diseases like coeliac, asthma, and ulcerative colitis? Simple! Some people with these problems have been taking them—literally drinking solutions of worm eggs—with the consistent effect of ridding themselves of their diseases, and without side effects. Well...there is one. Sometimes, after going to the toilet, they see wiggly things, which could be rather disconcerting. However, that seems a small price to pay to be rid of the misery, pain, and life constraining symptoms of chronic gut and respiratory disorders. After all, those tiny squiggly critters exchange a bit of nutrition—so small that you never notice—for the prevention of life-destroying chronic disease.
Not News to Modern Medicine
Modern allopathic medicine has been aware of the inverse relationship between gut worms and many chronic debilitating diseases. However, rather than looking at the issue in terms of how we may be living out of balance with nature, the approach has been to try to find the specific bit that might be what's missing, and then to turn it into a drug to force people to go to doctors, get prescriptions, and pile up the Big Pharma profits.
Studies have been done that document both the efficacy and safety of worm therapy. One study, "Trichuris suis therapy for active ulcerative colitis: a randomized controlled trial" tested the whipworm, Trichuris suis, on people with ulcerative colitis by having patients ingest their eggs (ova). The conclusion was:
Ova therapy seems safe and effective in patients with active colitis.
So, now the theorizing has begun. And, as ever, modern medicine is trying to find the single entity that's having the effect, the magic bullet, the secret elixir...and they'll keep searching. Along the way, they'll find some derivative of gut worms that they'll sell as a drug, claiming that it does what the worms do, but without having to deal with the worms themselves.
Wanna bet?
As has been the case with nearly every other derivative from nature, modern medicine makes it less effective and adds adverse effects. They can't seem to learn that it's nature that we need, not derivatives of it. We need the symbiotic relationships with bacteria and worms, not the bits of them.
Case of a Man Cured by Worms, and Medicine's Response
P'ng Loke is an assistant professor of medical parasitology at New York University's Langone Medical Center. With associates, he studied the case of a 34-year-old man who had severe ulcerative colitis. He'd been treated with steroids, drugs with a particularly severe pattern of adverse effects, but to no good effect. So, he'd been advised by his doctors that he required surgery to remove his colon, which would have left him with an external colostomy bag for his feces—not to mention eternally dependent on the medical system to supply his ongoing needs—or immunosuppressive drugs, which would have left him open to a host of dangerous infections and diseases.
The patient opted, instead, to try drinking worm eggs. He found a Thai parasitologist who provided them. Within a few months, his condition improved. He's now been in remission for three years.
Medicine's Twisting of the Facts
Loke says that the treatment probably won't help everyone. He also claims that it's a very dangerous treatment by citing the fact that children in poor countries often suffer from stunted growth and delayed mental development. That sounds quite impressive, until one considers that these are children of poverty, children who do not get adequate nutrition—and poor nutrition causes the same problems. That the worms exist in these children does not mean that they are causing the damage. Loke also fails to point out that these children do not suffer from the modern diseases of colitis, asthma, and coeliac disease.
In his paper on the subject, published in Science Translational Medicine, Loke and his coauthors state that the worms "may reduce symptomatic colitis by promoting goblet cell hyperplasia and mucus production".
Interesting, isn't it, that they consider colitis to be only symptomatically relieved, rather than realizing that colitis itself is the symptom of a gut out of balance? What makes considerably more sense is that colitis is a symptom of an unbalanced gut, one without the worms that stimulate the production of mucus, which protects the intestinal lining from the bacteria normally found there, and which, in their turn, help to digest the food that we eat.
In other words, the medical system considers the unnatural gut state of no worms to be normal, rather than the natural condition that has existed through most of humanity's existence: a symbiotic relationship with gut worms. So, they reason from an incorrect point of view.
Then, from that incorrect view, they attempt to derive an element that they deem the "active chemical", in this case proteins manufactured by the worms, to prescribe in the form of a drug, complete with its adverse effects.
What a system!
What to Do?
It is, of course, a difficult step to decide to drink worm eggs. It's also expensive, generally costing over $3,000 a dose—not to mention the difficulty in finding someone who can provide them. On this, little advice can be offered. It's up to you to decide whether you want to try drinking worm eggs.
However, when it comes to your children, there's significantly more that can be done. In today's world, our children are separated from nature. They live in oh-so-clean homes, with nary a speck of dirt traipsed in from outside—mainly because most people never set foot on a speck of real soil each day, instead traversing across pavement. This is not natural. Immune systems don't learn how to function, and the gut is one of the first defenses the body has against invaders. If the gut isn't colonized by dirt-dwelling worms, then the immune system—including the mucus that repels germs—can't develop properly.
Children need to be exposed to good, honest soil. Dirt. Earth. The stuff that we all must return to. They need to be exposed to soil-transmitted worms. Are there risks? Of course there are. There is always risk—but keep in mind that there are enormous risks, in the form of auto-immune disorders like asthma and colitis, if you try to keep your child away from soil.
What About the Risks of Worm Infestation?
It's understandable to be concerned about infestations of worms. The fact is that some provide no benefit, but they aren't routinely picked up from soil; they're generally ingested by eating infected meat, as with trichinosis that results from eating infected pig meat. Soil worms were routinely picked up by people because they were in constant contact with the earth. Bare feet, digging for edible roots, harvesting vegetables, tilling the soil: These were the daily activities of our ancestors. And that put them into constant contact with soil. Obviously, most people were routinely colonized by worms.
So why would some people suffer from such infestations, while others, like western society people who seek them out, experience no ill effects? The answer is quite simple: People in good health, which generally means people who are well fed and live with clean water and sanitation, can easily spare the minimal amount of nutrition that these worms require. Hookworms generally feed off blood, a tiny amount that most people can readily spare. When nutrition is poor, anemia and related conditions can result. However, when the basic requirements for health exist, then we do especially well when we live in harmony with our world and allow natural symbiotic relationships to exist—even when it's with worms.
Today's inspiration is a shout out to all those who are working in the field of homeopathy. Saving lives, supporting the suffering through emotional and physical illnesses. 
Want to Learn More?
by Elizabeth Cohen, CNN Senior Medical Correspondent 

Let's Study of the Organon. We've been studying about Homeopathic Provings
The homeopath needs to know the detail of every drug
 and we give strong medicines in moderate doses
. We will talk about giving only one drug at a time during a proving.
Organon aphorism §120
Therefore medicines, on which depend man's life and death, disease and health, must be thoroughly and most carefully distinguished from one another, and for this purpose tested by careful, pure experiments on the healthy body for the purpose of ascertaining their powers and real effects, in order to obtain an accurate knowledge of them, and to enable us to avoid any mistake in their employment in diseases, for it is only by correct selection of them that the greatest of all earthly blessings, the health of the body and of the mind, can be rapidly and permanently restored.
Organon aphorism §121
In proving medicines to ascertain their effects on the healthy body, it must be borne in mind that the strong, heroic substances, as they are termed, are liable even in small doses to produce changes in the health even of robust persons. Those of milder power must be given for these experiments in more considerable quantities; in order to observe the action of the very weakest, however, the subjects of experiment should be persons free from disease, and who are delicate, irritable and sensitive.
Organon aphorism §122
In these experiments—on which depends the exactitude of the whole medical art, and the weal of all future generations of mankind—no other medicines should be employed except such as are perfectly well known, and of whose purity, genuineness and energy we are thoroughly assured.
Organon aphorism §123
Each of these medicines must be taken in a perfectly simple, unadulterated form; the indigenous plants in the form of freshly expressed juice, mixed with a little alcohol to prevent it spoiling; exotic vegetable substances, however, in the form of powder, or tincture prepared with alcohol when they were in the fresh state, and afterwards mingled with a certain proportion of water; salts and gums, however, should be dissolved in water just before being taken. If the plant can only be procured in its dry state, and if its powers are naturally weak, in that case there may be used for the experiment an infusion of it, made by cutting the herb into small pieces and pouring boiling water on it, so as to extract its medicinal parts; immediately after its preparation it must be swallowed whilst still warm, as all expressed vegetable juices and all aqueous infusions of herbs, without the addition of spirit, pass rapidly into fermentation and decomposition, whereby all their medicinal properties are lost.
Organon aphorism §124
For these experiments every medicinal substance must be employed quite alone and perfectly pure, without the admixture of any foreign substance, and without taking anything else of a medicinal nature the same day, nor yet on the subsequent days, nor during all the time we wish to observe the effects of the medicine.
Hahnemann tells us there should be no interference, no mixtures, as in as much of an isolated situation, without other variables to take into consideration in terms of other medications. Perhaps this helps us understand who would be acceptable to participate in a proving of a remedy. Recent news announcements tell us the benefits of a daily low dose aspirin, but watch out for those negative side effects. Hahnemann would say, "No daily aspirin, no HBP medicines, no antihistamines or antidepressants or anticoagulants or antacids, etc. because they would suppress the natural response of the body for us to see the action of the remedies. 
Organon aphorism §125
During all the time the experiment lasts the diet must be strictly regulated; it should be as much as possible destitute of spices, of a purely nutritious and simple character, green vegetables, (100) roots and all salads and herb soups (which, even when most carefully prepared, possess some disturbing medicinal qualities) should be avoided. The drinks are to be those usually partaken of, as little stimulating as possible. (101)
[100] Young green peas, green French beans, boiled potatoes and in all cases carrots are allowable, as the least medicinal vegetables.
[101] The subject of experiment must either be not in the habit of taking pure wine, brandy, coffee or tea, or he must have totally abstained for a considerable time previously from the use of these injurious beverages, some of which are stimulating, others medicinal.
Role Of Dietetic Restrictions While On Homoeopathic Treatment Dushyant
Old Journals Group Aphorisms
He gives adequate instructions regarding diet in the Organon of medicine in aphorisms 259, 260 and 261.
FOOTNOTE TO APHORISM 260
[140] Coffee; fine Chinese and other herb teas; beer prepared with medicinal vegetable substances unsuitable for the patient's state; so-called fine liquors made with medicinal spices; all kinds of punch; spiced chocolate; odorous waters and perfumes of many kinds; strong-scented flowers in the apartment; tooth powders and essences and perfumed sachets compounded of drugs; highly spiced dishes and sauces; spiced cakes and ices; crude medicinal vegetables for soups; dishes of herbs, roots and stalks of plants possessing medicinal qualities; asparagus with long green tips, hops, and all vegetables possessing medicinal properties, celery, onions; old cheese, and meats that are in a state of decomposition, or that possess medicinal properties (as the flesh and fat of pork, ducks and geese, or veal that is too young and sour viands), ought just as certainly to be kept from patients as they should avoid all excesses in food, and in the use of sugar and salt, as also spirituous drinks, undiluted with water, heated rooms, woolen clothing next the skin, a sedentary life in close apartments, or the frequent indulgence in mere passive exercise (such as riding, driving or swinging), prolonged suckling, taking a long siesta in a recumbent posture in bed, sitting up long at night, uncleanliness, unnatural debauchery, enervation by reading obscene books, reading while lying down, Onanism or imperfect or suppressed intercourse in order to prevent conception, subjects of anger, grief, or vexation, a passion for play, over-exertion of mind or body, especially after meals, dwelling in marshy districts, damp rooms, penurious living, etc. All these things must be as far as possible avoided or removed, in order that the cure may not be obstructed or rendered impossible. Some of my disciples seem needlessly to increase the difficulties of the patient's dietary by forbidding the use of many more, tolerably indifferent things, which is not to be commended.
Organon aphorism §126
The person who is proving the medicine must be preeminently trustworthy and conscientious and during the whole time of the experiment avoid all over-exertion of mind and body, all sorts of dissipation and disturbing passions; he should have no urgent business to distract his attention; he must devote himself to careful self-observation and not be disturbed whilst so engaged; his body must be in what is for him a good state of health, and he must possess a sufficient amount of intelligence to be able to express and describe his sensations in accurate terms.
Organon aphorism §127
The medicines must be tested on both males and females, in order also to reveal the alterations of the health they produce in the sexual sphere.
Character assessment of prover. Even temperament. No distractions. Devotion of his time and focus in order to pay attention to observations and record notes, vocabulary and language skills. Hahnemann has the highest expectations. 
In prescribing medications today drugs are given to all ages whether or not they have been tested in the gender or age group which is a disturbing thought. Or for a sufficient length of time to know long term effects.